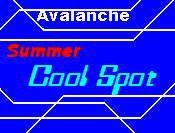 This site was created for a school project.
Questions? Comments? Mail the Webmaster
Avalanche will bury you with outdoor sports articles, photos, videos, links and much more- year round! Outdoor sports that get your heart pumping and your adrenaline flowing now have a home online. Everything from mountain biking, alpine skiing, snowboarding, rock climbing, kayaking, kiteboarding, nordic skiing, trail running plus many others will make your online experience an adventure!

Check out all the features below for the latest and greatest at Avalanche - Outdoor Sports Online. Be sure to check back, the features change often!






Urban Thrills: Want to have a great time, stay nearby, and get scared? Then we suggest heading to your local amusement park. Adventure does not always mean driving an hour to find it. Find out which rides will suit your taste best. Click Here






Kayak: Whitewater Spin - A kayaker pulls off some great spin moves while surfing a rapid. Click Here





Mt. Biking - Tis the season to get out the bike! Get inspired to get your bike in gear by checking out these action packed photos. Click Here






Search the Outdoors - Want to find some other great outdoor oriented sites? Check out this search engine so you can find what you are looking for. Click Here